UK Manufactured
Free Expert Advice
Nationwide Delivery
Established 2005
Imprinted Concrete Sealer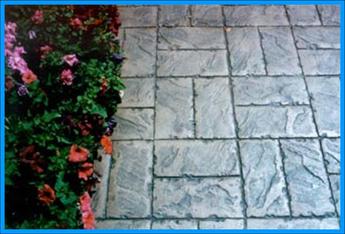 SmartSeal stock a comprehensive high quality range of imprinted concrete sealer for DIY and trade customers. All our sealer for imprinted concrete is manufactured to BS5750/ISO 9001 quality and widely used by professional contractors for sealing concrete around the UK. The sealant is suitable for all forms of printed, stamped and imprinted concrete surfaces.
Imprinted concrete sealer application tools, anti-slip additives, colour tints and sealer repair fluid are also available. Our coloured concrete sealer can be used to transform imprinted concrete back close to its original condition
Please call 01268 722500 for further information or see our enquiry form. NEW Trade Enquiries Register Here
Smartseal imprinted concrete sealer is the perfect way to not only protect your patterned concrete driveway or patio, it will also keep it looking great. On most driveways or patio's from when it is laid and sealed, the imprinted concrete sealer will have a lifespan of 3-5 years dependent on the quality and amounts of sealer that were originally applied.
Our sealant for printed concrete comes in three finishes. If your concrete driveway or patio is in good condition and just requires a top up coat of sealer, our Silk finish sealant is the right product. This sealer has the perfect mix of solids and thinners so that once applied it will melt and key into any remaining imprinted concrete sealer that has been applied. It is recommended that two coats of sealer every 3-5 years will keep the concrete in optimum condition.
Smartseal sealer for printed concrete in a Matt finish should be used if the general condition of the concrete is poor, and suffering from loss of colour. By adding colour tint to our Matt sealer the viscosity of the sealant will allow the colour to penetrate and revive the colour of the concrete, rather than sitting on top of the surface like a paint. If the sealer for any reason cannot key into the surface of the imprinted concrete properly there is a good chance it will peel off at some stage and create a problem that is difficult to fix.
Our Gloss finish imprinted concrete sealer is generally only used if there is plenty of concrete sealer still present and only one coat of sealant is required.
If you require any advice on what sealer is the correct finish for your pressed concrete driveway or patio, please call 01268 722500 or contact us.