Product Reviews
Excellent product. Kills the moss great.
I am very impressed with this roof cleaner, you can literally see the dirt and grim lifting once applied, i have two very happy customers after using this on there roof
Product its very good. As soon as I apply the product its start working and cleaning the roof, after one hour I could see already the difference.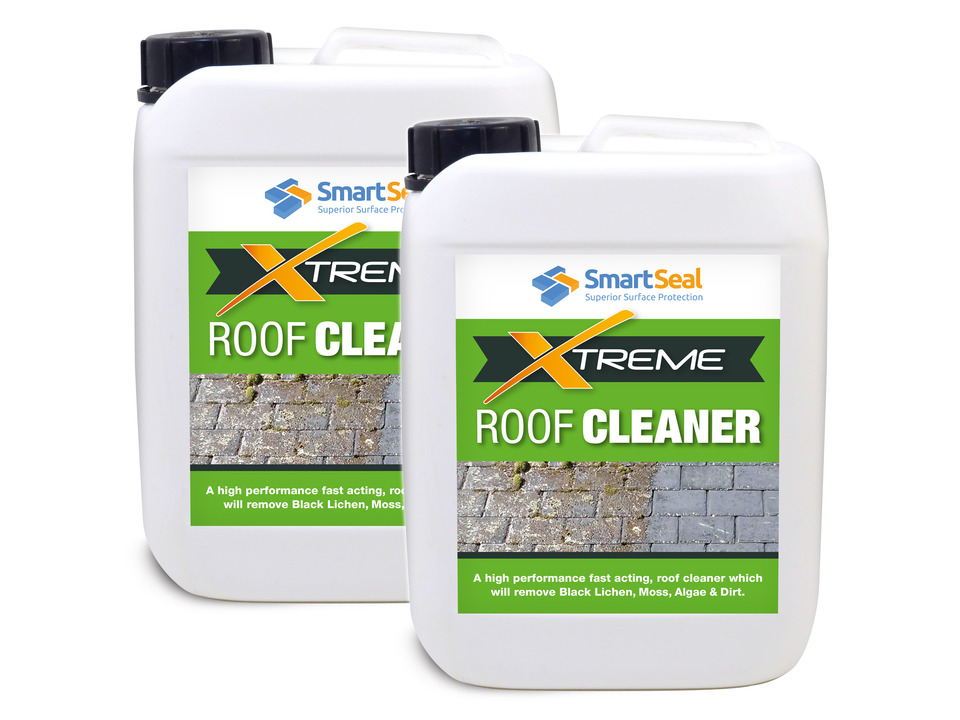 **Please note: by purchasing this offer, you will receive 2 x Roof Clean Xtreme - 5 Litre (usually £31.95 plus delivery each.)
Fast and Effective Roof Cleaner for all types of Roof Tiles.
Roof Clean Xtreme is a fast acting, high performance cleaning product that will enable a roof to be cleaned without intense pressure washing. RoofClean Xtreme will quickly remove all forms of organic growth from any type of roof tile including clays, without risk of damaging the roof. For best results dilute the product 1:1 and apply to a wet surface by watering can or sprayer. Keep the roof tiles damp throughout the 60 minute period, then hose or lightly pressure wash away with clean water. For areas of heavy contamination or soiling, leave product on surface for longer or re-apply.
Roof Clean Xtreme combines 4 powerful, active cleaning ingredients.
Helps facilitate the easy removal from roofs of
Black and White Spot
Algae and Lichens
Moss
Surface Grime
5 litres of product will clean and treat approximately 40 m² of Roof Tiles. Wear appropriate safety wear at all times. See technical page for more information.
Application:
Sweep away loose debris & areas with a heavy build-up of dirt & grime.
Wet surface area with water.
RoofClean Xtreme at a ratio of 1:1. If removing black spot, don't dilute (use neat).
Apply product to surface using a watering can or sprayer.
Make sure that surface area doesn't dry out before rinsing off.
Leave on surface area for upto 60 minutes.
Rinse area with water.
It is important the roof remains wet throughout during 60 minute period, as the product becomes inactive once dry. Most ingrained organic matter and grime will be removed after one application, but sometimes a second application may be required to remove all black and white spot algae.
Please note: this product can temporarily stain lead or other flashing materials if not quickly washed off.
Health & Safety
RoofClean Xtreme contains chlorine as an active ingredient and will stain fabrics and sensitive materials. Take care to avoid contact with fabrics during application. Toxic to aquatic life, wear protective gloves and goggles at all times. RoofClean Xtreme can cause skin burns, avoid contact with eyes. Keep out of the reach of children
We provide a national delivery service for our block paving sealer, pattern imprinted concrete sealer, roof coatings and tarmac restorer on a standard 2 - 4 working day basis. Dependent on weight, this is normally done by pallet or parcel carrier.
If you need products delivered quicker, for a small additional charge, orders placed before 1.30pm can be delivered within 1 - 2 working days to most parts of the UK, although this is dependent on the courier service in your area and the product/s ordered. If you require this service, please check on area availability by calling 01268 722500.
Our commitment is to supply all orders as placed and we offer a comprehensive guarantee of quality. Providing a reliable delivery service to all our customers is most important to us and this is backed up by the many satisfied customer testimonials we have received over the years.
If you need an order delivered to a different address, left somewhere at your property without a signature or left with a neighbour, just let us know.
We also try to maintain 100% stocking levels of our products at all times, so an immediate despatch is virtually guaranteed.
Our product returns policy can be viewed by visiting our Terms and Conditions section.
*Free delivery on orders over £75 are subject to the delivery address location.