Product Reviews
Although Ive ended up needing to order way more than originally planned, due mainly to the aged condition of our block paving, the finish of the sealer has significantly improved the look of our garden and the final cost is still way less than the alternatives we were considering prior to finally deciding to go with SmartSeals products.
The recommended amount needed was underestimated by yourselves so my builder ended up using a clear polyurethane sealant for the second coat. The surface was fully weeded, cleaned with a proprietary brand, power nosed and left until bone dry. However, the coverage is fairly difficult to apply evenly and had to be gone over several times. The colour grey used (the lighter of the two greys) was/is a little on the blue side and I wish a silver grey had been on offer. I do like the fact that there is a translucent quality which gives a realistic finish to the block paving. Overall my driveway looks much improved and I would recommend the use of Block Magic sealant with one coat coloured and after applying kiln dried sand another coat of clear sealant.
The product is great. My only issue is with coverage. After consultation with George prior to ordering the sealer I advised the size of our garden and duly ordered 35 litres of block magic. Id watched your videos regarding application and was at pains (so I thought) to apply the sealant generously, but found I was running short. So I ordered another 5 litres to get the job done. However, 2 weeks later Ive noticed a few spots of the block paving where the colour seems to be a little transparent. So, to be on the safe side I think Ill need to order another 5 litres to give more than ample coverage to all areas. The change in our garden is significantly better though.
Product FAQs
Q: Do you have people who come and clean drive and apply block Magic?
A: Yes, if you go to our contact page, you can request a quote there. https://www.smartseal.co.uk/help-advice/contact-us.htm
Response from George
Q: Do you do sample sizes to try before I purchase
A: Yes, we do. Click the drop down menu on the product page and you can find a sample. Thank you.
Response from George
Q: What finish will Block Magic provide?
A: Used in isolation Block Magic will provide a Matt finish. However, once the final coat (clear sealer) is applied (in matt or silk), a satin appearance can be achieved.
Response from Alex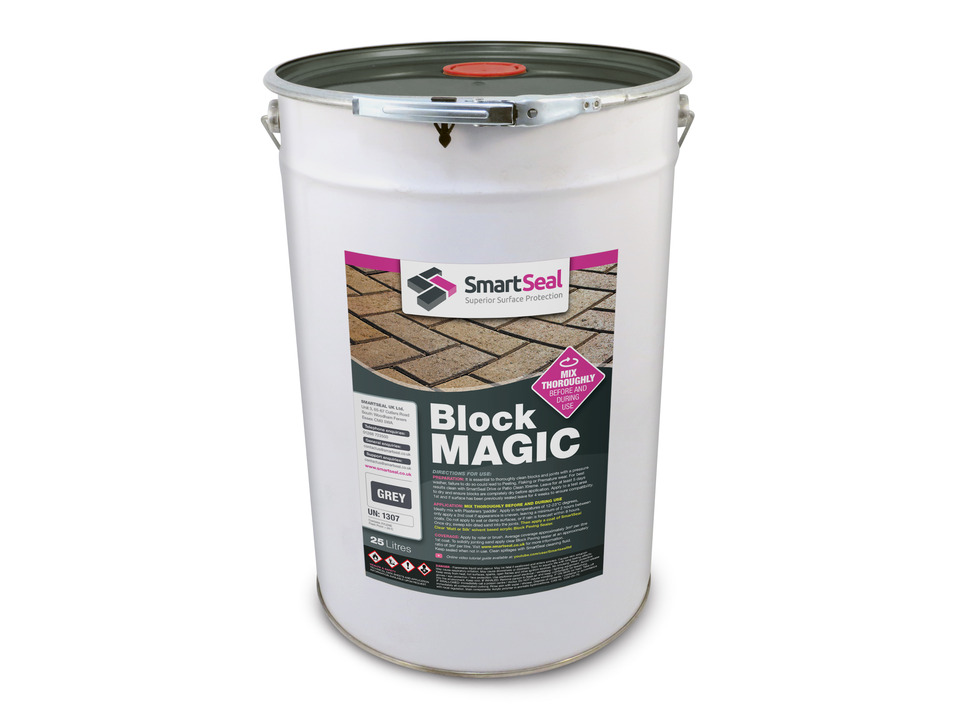 BLOCK MAGIC GREY (Sample, 5L & 25L)
Recolours And Seals Old Block Paving. ALWAYS Clean 1st with Xtreme Cleaner & Apply 2nd coat of Sealer. Re-colours, seals and protects older block paving; finish with a coat of our clear Block Paving Sealer (either Matt or Silk)





#blockmagic_5step
Add colour to your block paving to make it look like new.
Smartseal "Block Magic" is a blend of liquid pigments and acrylic resins that soaks deeply into paving, totally transforming and protecting block paving driveways and patios. 'Block Magic' replaces the colour that sun, rain, vehicles and pressure washing has taken away. Apply one coat of 'Block Magic' by brush or roller, leave to dry, re-sand the joints and then apply a coat of our clear sealer. PLEASE NOTE: old or poorly conditioned pavers may require two coats of Block Magic to achieve a uniform finish.
***NOT TO BE USED ON CLAY PAVERS OR IN COMBINATION WITH THE POLYURETHANE
Transforms Old Block Paving
Recolours and Protects
UV Stable
Colour Fast
Stain Resistant
Hard-wearing
Covers 3 m²/litre on average based on one coat (coverage may be reduced to around 2.5 m² per litre on old pavers)
Other Colours Available
There are 2 methods which can be carried out on Block Paving. The first method is to keep the sand the original colour and the second to change the colour of the sand (whilst protecting the area).
Application Guidelines To KEEP Sand Original Colour:
Ensure paving is pressure washed/cleaned to remove all surface debris and 'muck' from joints.
Leave paving to dry for at least 5 clear & dry days.
Apply one coat of Block Magic with Roller. If you're changing the colour you may need to apply two coats (coverage in description)
Leave Block Magic to dry for around 2 hours.
Re-sand surface area, with "kiln-dried sand".
Lastly, apply a coat of the Smartseal Block Paving Sealer MATT or SILK, this will adhere to the colour and solidify the sand.
Application Guidelines To CHANGE Sand Colour:
Ensure paving is pressure washed/cleaned to remove all surface debris and 'muck' from joints.
Leave paving to dry for at least 5 clear & dry days.
Re-sand surface area, with ''kiln-dried sand''.
Apply two coats of Block Magic with a Roller, leaving 2 hours between each coat.
Ensure no rainfall is due for at least 8 hours after application.
After correctly applying the sealer, expect to have between 3-5 years protection*. Sealer longevity will vary dependent on a number of factors such as: traffic (foot/vehicle), weather and general maintenance.
For more information on the Block Paving Sealer application; please visit the Smartseal YouTube playlists
See Technical section below for more information.
Liquid UV stable pigments blended with acrylic resins and solvents create "block magic". Developed by Smartseal with older block paving in mind, it will not only recolour block paving but protect the paving from future colour loss, weeds algae and staining.
'Block Magic' Coloured Paving Sealer is applied by roller, at a rate of approx 3.0m² per litre (around 2.5m² per litre on old pavers). Make sure the colour has dried evenly across the block paving before applying a clear second coat of sealer. Prior to applying sealer, sweep kiln dried sand into the joints and ideally compact with 'wacker plate'. The sealer will be tack free within 2 hours at 20°C and foot traffic may be permitted after 4 hours. Vehicles should be kept off the sealed area for a minimum of 24 hours at 20°C. These times may be increased or reduced depending on the ambient temperature.
Ensure no rain is forecast for at least 8 hours after application. Do not apply when the ground temperature is above 23°C or below 12°C.
All equipment should be cleaned with Smartseal cleaning fluid after use.
Deicing salts should not be applied directly on sealed block paving or concrete sealers.
Salt chemically reduces the temperature at which water freezes and will result in water ingress into the pavers.
Subsequent freezing may result in the paving 'sealer' being broken by the expansion of water as it freezes and white 'pitted' areas may become visible.
*****NOT TO BE USED ON CLAY PAVERS
*** If your Block Paving has been previously sealed - to ensure compatibility, please contact us here before ordering: https://www.smartseal.co.uk/help-advice/contact-us.htm
Preparation

Existing paving should be pressure washed to remove all surface debris and muck from the joints.
If the area is contaminated with weeds & moss then it should be treated with Smartseal moss clear or weed killer.
Oil and other stains should be removed using Smartseal Driveway Cleaner or Oil Remover.
The treated area should then be left to dry and the joints re-sanded & compacted to the lower edge of the paver chamfers with clean kiln-dried sand.
Moisture in the paver & sand will inhibit penetration of the sealer and produce whiteness.
Technical & Test Data
Smartseal Block Paving sealer has been tested by the TRL (Transport Research Laboratory) and certified that it meets the SRV (Skid Resistance Value) for all categories of paving for local authority pedestrian areas and when heavily trafficked is suitable for special applications where risks of skidding are high as laid down in the UK Highway Authorities Tender Specification. Copies available on request.
Specification Clause
"Newly laid block paving shall be treated with Smartseal block paving sealer to protect and stabilise jointing sand and enhance surface colour and increase abrasion resistance.
All materials should comply with ISO 9002 for Quality Assurance.
All work should be carried out in conjunction with the manufacturer's current technical data sheet and instructions for use".
Health & Safety
Flammable liquid. Do not smoke. Keep application area well ventilated.
Wear respirator, gloves and goggles when applying. Store in a cool place. Flash point 40°C (Abel-Closed Cup). Refer to the Health & Safety Data Sheet for further information.
We provide a national delivery service for our block paving sealer, pattern imprinted concrete sealer, roof coatings and tarmac restorer on a standard 2 - 4 working day basis. Dependent on weight, this is normally done by pallet or parcel carrier.
If you need products delivered quicker, for a small additional charge, orders placed before 1.30pm can be delivered within 1 - 2 working days to most parts of the UK, although this is dependent on the courier service in your area and the product/s ordered. If you require this service, please check on area availability by calling 01268 722500.
Our commitment is to supply all orders as placed and we offer a comprehensive guarantee of quality. Providing a reliable delivery service to all our customers is most important to us and this is backed up by the many satisfied customer testimonials we have received over the years.
If you need an order delivered to a different address, left somewhere at your property without a signature or left with a neighbour, just let us know.
We also try to maintain 100% stocking levels of our products at all times, so an immediate despatch is virtually guaranteed.
Our product returns policy can be viewed by visiting our Terms and Conditions section.
*Free delivery on orders over £75 are subject to the delivery address location.