Product Reviews
This is good stuff the only downside is once opened it has a certain use by date. I had the sample in my shed from last year and I thought this will do one paving slab but it came out the bottle like curdled milk.. so I decided to use all of the gallon I had bought recently. I have a large Indian sandstone patio so I did all of it but decided once the coat of sealer had dried to give another generous coat.. I wrongly supposed more would be best and used the whole gallon. When I had finished it looked really nice when product had dried next morning after it had rained overnight my wife shouted me to go down and look. The whole bit I had done previous day was all covered in white streaks it looked like the product had been splashed on everywhere and looked a right mess I straight away used my marcher pressure washer to wash it all off. It took some doing but got all the white staining off eventually.. end result once it had dried it still had the colour enhancer on and looks as it did the day before. It does not say on the container that putting too many coats on will result in this happening but the info is on smartseal web site regarding this. So two things to remember. If you buy it then use within a few weeks to avoid it going off and if you are happy with how the first coat looks then I wouldnt apply a second coat unless you apply it very sparingly so I would still give the product 5 stars as it does make the Indian sandstone look like new again but more is not always better.
This is an excellent product and very easy to use i just painted the sealer on my tarmac with a wide brush. We have moved in to an older bungalow with a tarmac drive and used this to smarten up the outside. It looks great and I may top it up but don't need to at this stage as one coat was enough
Delivered on time and product is as described. Painted the edges of the tarmac with a brush first then the rest with a roller. Went on easy and is water soluble so if you do get some over spill onto other surfaces you can get it off without staining if your quick! Drive now looks like new.
Product FAQs
Q: Can I put red over an old black driveway to change the colour?
A: This should be fine, however we would advise to try a test area prior to application. It will all depend on the condition of the area as to how many coats may be required.
Response from George
Q: Is the Tarmaseal water based or solvent?
A: This is a water based acrylic based coating and sealer.
Response from George
Q: How long can Tarmac Restorer be stored please?
A: We would recommend using within 12 months of delivery and within 6 months of opening date.
Response from Alex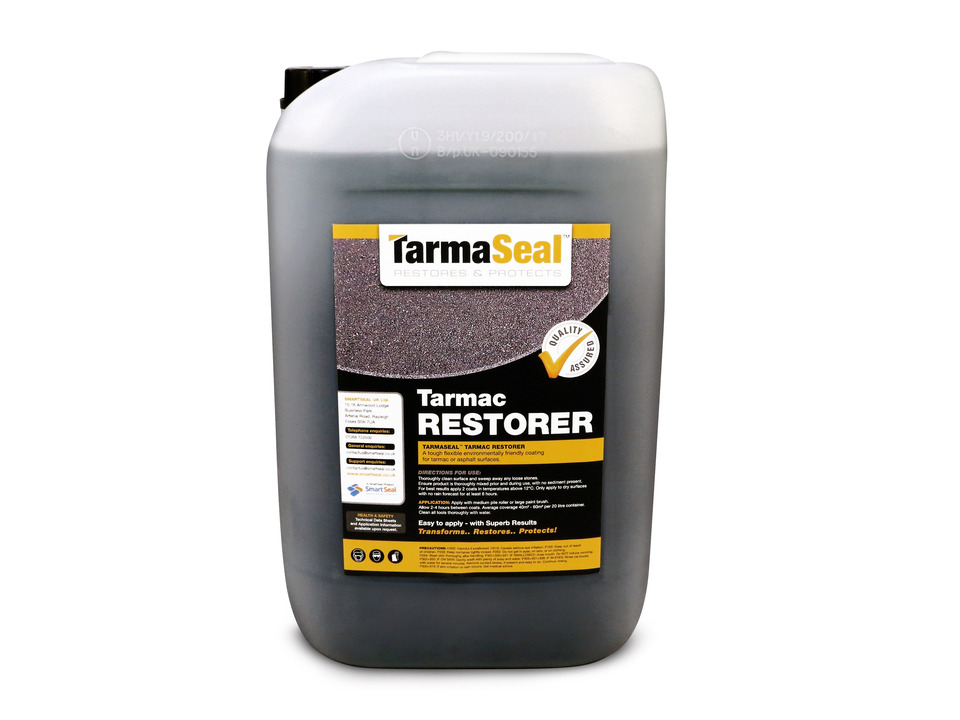 Tarmac Restorer BLACK
(Sample, 5 & 20 L) High quality Tarmac sealer replaces lost resin & colour; easy to apply. Acrylic based product; designed to rejuvenate and transform tired tarmac





#tarmac_video
Tarmac Restorer for Driveways, Car Parks, Playgrounds and Tennis Courts
Repair and restore tarmac driveways with Tarmaseal
Smartseal Tarmac sealer is a superb easy to apply Tarmac restorer designed to rejuvenate and transform tired tarmac. Tarmaseal is far superior to a tarmac paint and offers a cost effective alternative to a full replacement of a driveway. For more detailed information visit our dedicated Tarmac Paint website.
Transform the appearance of any existing Tarmac driveway
Replaces lost resin from Tarmac, vastly superior to bitumen based tarmac paint
20 litre drum, average coverage 40 to 60 sq metres
Easy to apply with roller
Re-creates original colour of Tarmac
Avoids need for expensive replacement of asphalt
Long term protection, reduces future Tarmac repair
Covers unsightly cement & oil stains or marks
Water based Tarmac Repair coating, environmentally friendly easy to apply product
20 litre drum, average coverage 40 to 60 sq metres
Top up coats of Tarmac sealer can be applied at any time
Reduces Tarmac stone loss and increases the life span of the Tarmac driveway's
Waterproofs, re-colours and protects Tarmac
Resists oil, grease and dirt stains
Resists fungicidal and algae growth
Preparation
Ensure the surface is thoroughly cleaned with a pressure washer or jet washer. Allow a minimum of 3 to 4 clear, dry days before sealing. Before coating, sweep area and remove any loose stones. Make sure product is thoroughly mixed with no sediment present.
Application
For best results apply 2 coats in temperatures above 12°C and below 22°C Only apply if no rain is forecast for at least 6 hours.
Tarmaseal can be applied via a medium pile roller or large paint brush. Make sure a minimum of 2 to 4 hours is left between coats.
Health & Safety
All work should be carried out with safety goggles, mask and gloves.
We provide a national delivery service for our block paving sealer, pattern imprinted concrete sealer, roof coatings and tarmac restorer on a standard 2 - 4 working day basis. Dependent on weight, this is normally done by pallet or parcel carrier.
If you need products delivered quicker, for a small additional charge, orders placed before 1.30pm can be delivered within 1 - 2 working days to most parts of the UK, although this is dependent on the courier service in your area and the product/s ordered. If you require this service, please check on area availability by calling 01268 722500.
Our commitment is to supply all orders as placed and we offer a comprehensive guarantee of quality. Providing a reliable delivery service to all our customers is most important to us and this is backed up by the many satisfied customer testimonials we have received over the years.
If you need an order delivered to a different address, left somewhere at your property without a signature or left with a neighbour, just let us know.
We also try to maintain 100% stocking levels of our products at all times, so an immediate despatch is virtually guaranteed.
Our product returns policy can be viewed by visiting our Terms and Conditions section.
*Free delivery on orders over £75 are subject to the delivery address location.