Product Reviews
Very good product. As mentioned by others you have to make sure you clear of excess and this takes effort. Now real test as winter approaches. In hindsight personally maybe should have gone for colour enhancer or wet look sealer to show off effort of looking after stone!
The contractor who laid out the back garden left it to me to seal the sandstone and I am glad that I found Smartseal. It effectively seals and enhances the stone without any discolouration when finally dry. An excellent product which I can thoroughly recommend.
Easy to apply. But a little difficult to make sure none stays on top of the slab. Looks good and certainly made my patio look fresher. Time will tell over the winter months with the rain how well it stacks up
Product FAQs
Q: What is a suitable colour enhancer for Kandla Grey Indian stone please?
A: Unfortunately we only recommend that our Dry Finish Natural Stone Sealer is used with Kandla Stone, as this is the sealer that has given the best and most consistent results with this particular stone.
Response from Tracey
Q: Looking to seal a new Indian Granite patio. Are your products safe for dogs to run on once dry?
A: Any of our Smartseal Natural Stone Sealers are absolutely safe for the movement of pets and animals, just ensure 4 hours minimum (8 hours optimum) of drying time before allowing foot traffic to ensure that the product has fully adhered and dried correctly. Once this time has elapsed the surface will be suitable for crossing without transference and will be fully waterproof in 24 hours.
Response from Sophie
Q: How many coats are required?
A: For best results apply one coat to saturation then with 30-40 minues apply a lighter 2nd coat 'wet on wet' using roughly 50% less sealer than your 1st coat. In some circumstances one heavy coat to saturation may be sufficient. Always test the product on site before application to test suitability.
Response from Alex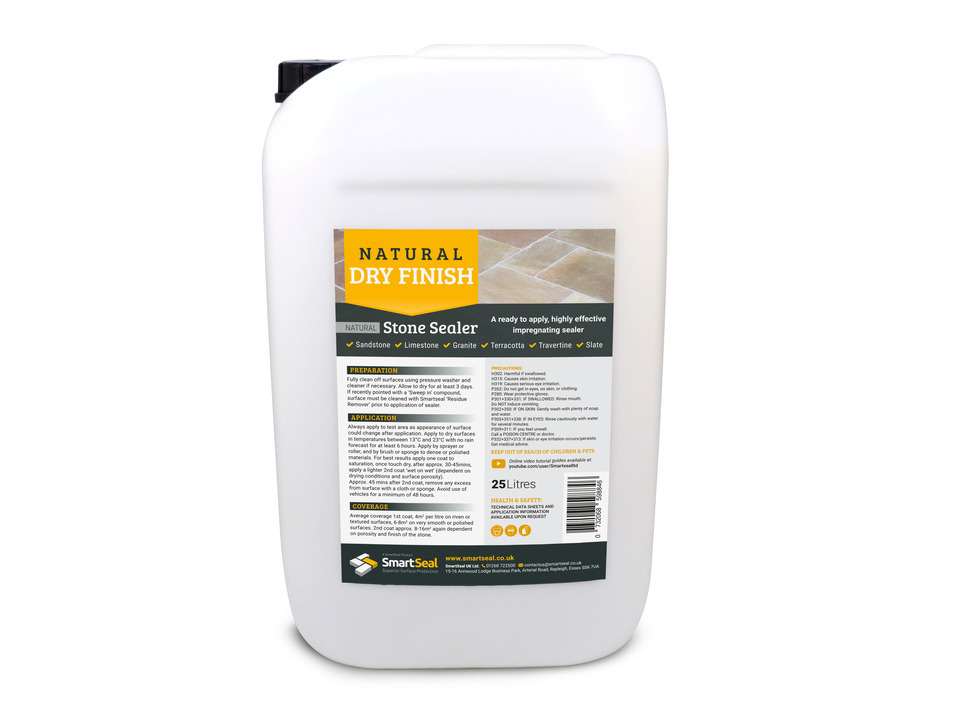 Natural Stone Sealer - DRY FINISH
(Sample, 1L,5L,25L Sizes) High Quality, Impregnating, Durable Sealer for Sandstone, Limestone , Slate, & Other Surfaces. Impregnating Sealer, 4 - 8 m²/litre average coverage, up to 5 years protection





#how2_ns
Natural Stone Sealer with a 'DRY' Invisible Finish
Effective impregnating sealer for sandstone, limestone, granite and slate
Smartseal Indian Sandstone Sealer and Natural Stone Sealer is a high quality, clear, solvent free acrylic impregnating, breathable coating system. Application of the sealer will alter the chemical structure of the porous sandstone or natural stone providing a excellent water repellent and stain resistant surface.
One coat application to saturation, or for best results, apply a second coat once 'touch dry'
Resistant to algae, lichen and staining
Dry finish
Average coverage: 1st coat 4 - 8 m² per litre ( 4m2 Sandstone- 8m2 Slate & Granite) 2nd coat 8 - 16 m² per litre (dependant on porosity and finish of the surface)
Application by roller or sprayer
Touch dry 2 - 3 hours
Fully waterproof 24 hours
Suitable for Sandstone, Limestone, Terracotta, Travertine, Slate and Granite
Can be used externally or internally
PREPARATION: Pre treat surface with appropriate cleaning product. If required, fully clean off using a pressure washer and leave to dry thoroughly for at least 3 days. In order to apply sandstone or natural stone sealer, the area must be clean, dry and free from contamination.
Always test product on-site, in an inconspicuous area, to ensure you fully are satisfied with the final appearance/ colour of the surface.
**If applied to a surface where a "sweep-in" pointing compound has been used within the last 6 months, the natural stone must be fully cleaned with Smartseal Residue Remover prior to sealant application.**
APPLICATION NOTE: Application on vertical surfaces should be to full saturation commencing at the bottom and working upwards. Do not apply in damp conditions and only apply to dry surfaces in temperatures above 13°C and no higher than 23°C. It is very important to make sure no rain is forecast for at least 8 hours after application.
Depending on the stone/surface, more than one coat may be required. For most porous stones, a 2nd lighter coat can be applied once touch dry (slightly wet). If over application does occur on either coats, excess sealer can be removed with a dry roller or sponge. Ensure this is done within 45 minutes.
Shake container well before use
Ensure that surface area is completely clean from dirt & grime.
Allow surface area to dry, will take 3 dry days depending on the weather.
Apply 1st coat to saturation by roller, sprayer or brush.
Apply 2nd lighter 'mist' coat (approx 45 minutes after 1st coat if suitable).
If over application does occur, please remove excess sealer with a dry sponge or cloth.
Avoid walking on surface 4 hours after application and 48 hours for heavy traffic.
All equipment should be cleaned with water immediately after use.
SHELF LIFE: Store away from direct sunlight and sources of heat. Protect from frost.
12 months shelf life (in original sealed container). Once opened use within 3 months.
We provide a national delivery service for our block paving sealer, pattern imprinted concrete sealer, roof coatings and tarmac restorer on a standard 2 - 4 working day basis. Dependent on weight, this is normally done by pallet or parcel carrier.
If you need products delivered quicker, for a small additional charge, orders placed before 1.30pm can be delivered within 1 - 2 working days to most parts of the UK, although this is dependent on the courier service in your area and the product/s ordered. If you require this service, please check on area availability by calling 01268 722500.
Our commitment is to supply all orders as placed and we offer a comprehensive guarantee of quality. Providing a reliable delivery service to all our customers is most important to us and this is backed up by the many satisfied customer testimonials we have received over the years.
If you need an order delivered to a different address, left somewhere at your property without a signature or left with a neighbour, just let us know.
We also try to maintain 100% stocking levels of our products at all times, so an immediate despatch is virtually guaranteed.
Our product returns policy can be viewed by visiting our Terms and Conditions section.
*Free delivery on orders over £75 are subject to the delivery address location.