Product Reviews
This stuff is brilliant. I have a brick patio which for most of the year is in the shade. It was regularly green with moss but not now. One treatment with this product keeps it moss free for at least a year. No more pressure washing!
We have used this product on our club tennis courts and it seems very effective in killing the moss after about a week- though one needs to be careful not to use it when rain is expected in the next few hours as that reduces its effectiveness. I would certainly recommend the product.
I purchased this back in April of this year but haven't got around to using this until now. I have more block paving than you can shake a stick at and I must confess I was a little sceptical as to whether this would work and how easy it would be to use. I applied using a 15 ltr Solo backpack. I was conscious having watched the videos that I needed to ensure a good covering. I have to say 24 hours later, some areas of moss have shrivelled to black others are now brown. The very heavy areas are still green but are not looking as healthy as they were 24 hours ago. So far, so very good.
Product FAQs
Q: How long after applying green clear pro can you put climashield roof coating on Thanks
A: You would want the roof to be dry for around 2 days prior to applying the roof coating. Moisture can act as a barrier for the coating to adhere to the surface.
Response from George
Q: Can moss clear be used neat?
A: It can, yes.
Response from George
Q: Is the Green Clear Pro suitable for use on red tarmac
A: Yes, it can be applied on tarmac (red too)
Response from George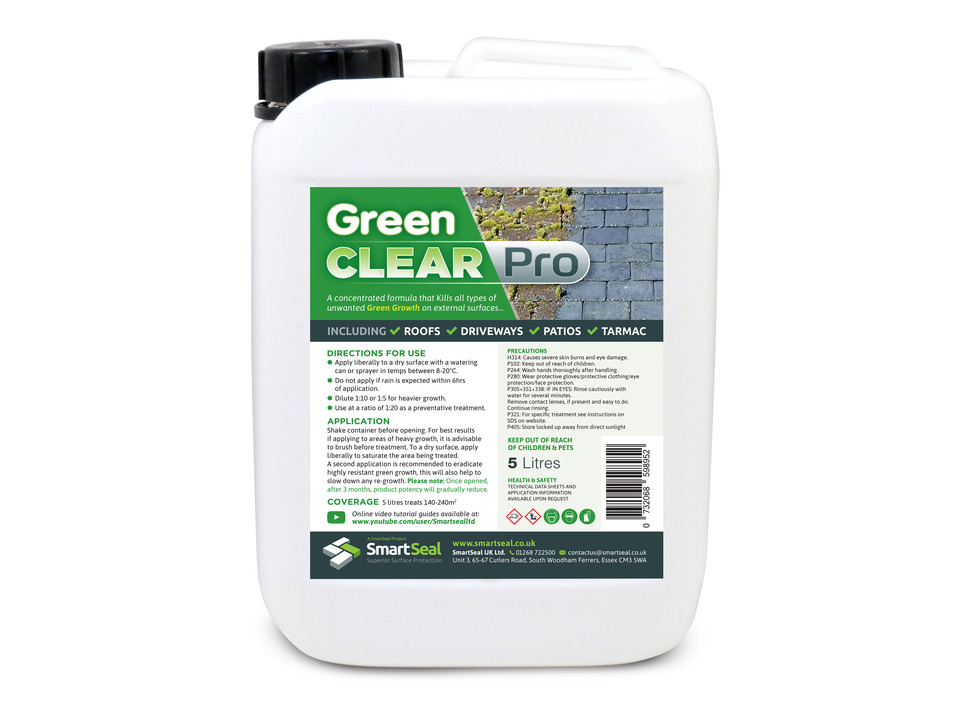 'GREEN CLEAR' PRO Kills & Inhibits All Green Growth- Safe, Quick & Easy
(5, 25 Litre and Bundles Available) Highly Concentrated PROFESSIONAL Green Growth & Algae Killer - Inhibits Re-Growth. Ideal for Heavy Infestations - ROOFS- DRIVES- TENNIS COURTS- TARMAC - All External Surfaces





Powerful Organic Growth Killer for Driveways, Patios and Roofs
Concentrated green growth killer to kill green growth, algae, fungi, mould, mildew and lichen on external hard surfaces.
GREEN CLEAR PRO is a highly effective microbiological biocide that will break down and kill organic growth quickly. It will also swiftly erase and prevent regrowth of mould, algae and mildew which are potential health hazards.
FOR BEST RESULTS:
Apply to dry surface by watering can or sprayer in temps between 8-20° degrees
Do not spray if rain is expected within 24hrs of application
Application ratios 1:10 or 1:5 for areas of heavy contamination
As a preventative, use at approx 1:20 ratio applying once or twice yearly
5 litres will treat 100 - 125m² when diluted 1: 5 and 150 - 250m² when diluted 1:10
Green Clear Pro works to kill unwanted organic growth on most external surfaces such as driveways, patios and roofs. Regarded by professionals as the best organic matter killer for tarmac and asphalt driveways. It is a stronger formulation that Green Clear which is frequently used by homeowners for DIY purposes.

It is a very effective roof green growth remover and is used extensively for roof cleaning throughout the UK and Ireland. Can also be used to inhibit green and organic growth on roofs, driveways and patios.
APPLICATION INSTRUCTIONS:
Shake container well before opening. Add Green Clear Pro to water in container to avoid excessive foaming and mix well before application. If applying to heavy growth, brush before treatment. For best results it is vital to ensure thorough saturation.

A second application is recommended to remove highly resistant organic matter & lichen as well as dormant spores. This will also help to delay any re-growth. To maintain a problem free surface, re-apply at least once a year. Use a brush and hose to agitate and remove dead spores.
Can be used all year round to eradicate or prevent organic growth.
Does not contain bleach or acid.
HEALTH AND SAFETY
To download the Safety Data Sheet (SDS) click above under the Add to Basket button
We provide a national delivery service for our block paving sealer, pattern imprinted concrete sealer, roof coatings and tarmac restorer on a standard 2 - 4 working day basis. Dependent on weight, this is normally done by pallet or parcel carrier.
If you need products delivered quicker, for a small additional charge, orders placed before 1.30pm can be delivered within 1 - 2 working days to most parts of the UK, although this is dependent on the courier service in your area and the product/s ordered. If you require this service, please check on area availability by calling 01268 722500.
Our commitment is to supply all orders as placed and we offer a comprehensive guarantee of quality. Providing a reliable delivery service to all our customers is most important to us and this is backed up by the many satisfied customer testimonials we have received over the years.
If you need an order delivered to a different address, left somewhere at your property without a signature or left with a neighbour, just let us know.
We also try to maintain 100% stocking levels of our products at all times, so an immediate despatch is virtually guaranteed.
Our product returns policy can be viewed by visiting our Terms and Conditions section.
*Free delivery on orders over £75 are subject to the delivery address location.