Product Reviews
Two months after application seems to be working in keeping the moss from my block paving. Application needs a fine rose on the can or the product will not cover the area stated. A sprayer may be a better applicator.
2 x 25ltr Green Clear Ive purchased. Used it on my roof to deal with the moss. Used it on my patio and fence panels to remove algae its done a fantastic job on all the surfaces. Wouldnt use anything else. Great product. Would definitely recommend.
Great help from Tech section prior to purchase as I was applying to roof shingles with surrounding wood trim - not something mentioned in any of the descriptions. It certainly did the job however removing the dead moss from the textured shingles a little more difficult as you can only use a relatively soft brush so as not to erode the surface which is obviously not product related.
Product FAQs
Q: Can the Green Remover be applied to Resin Bound driveways and not cause any discolouration?
A: Yes, it can. It will not cause any discolouration to the surface.
Response from George
Q: Will this product be suitable for removing light moss and algae from a resin bound drive?
A: You can apply Green Clear diluted 5-1 ideally by sprayer. The product contains no ingredients that could possibly harm your resin bound drive. Simply apply, leave and when the moss goes brown, sweep or rinse away.
Response from Alex
Q: I bought a Green Clear before Christmas and haven't gotten round to use it yet, will it still work? The container is unopened
A: This product has a recommended lifespan of up to 12 months for optimum performance.
Response from Hayley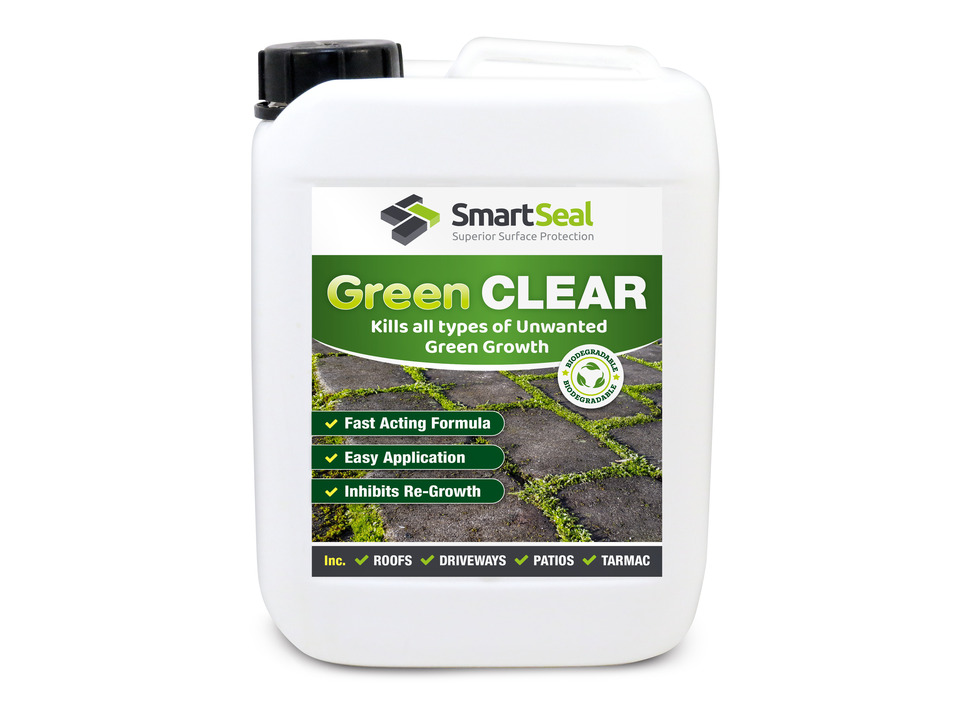 GREEN CLEAR (Formerly Moss Clear)
(5L, 25 Litre and Bundles Available) POWERFUL Organic Green Growth and Algae Remover - Safe & Easy. Acid Free Formula - DRIVES - ROOFS - PATIOS - TARMAC Concentrated Green Growth Remover





POWERFUL CLEANER TO KILL & PREVENT GREEN GROWTH, ALGAE & LICHEN GROWING ON ROOF TILES, TARMAC, BRICKWORK DRIVES & PATIOS.
Green Clear is a green growth killer and cleaner that has been formulated specially for the purpose of killing green growth on all different types of roof tiles. tarmac, drives, patios and brickwork. It is used in a multitude of scenarios, not only to initially kill green growth, but also on an ongoing basis to help with prevention. It will remove growth usually after one heavy application. It works equally effectively as a roof green growth remover, green growth killer for tarmac and green growth remover for patios.
Features & Benefits:
Scrubbing or high-pressure cleaning unnecessary

5 litre is enough to cover 100 - 125m²

Easy application via watering can or sprayer
Green Clear requires no washing off at a high pressure. Green growth and Algae that has been treated you should begin to see flake away and turn brown before falling away within a few days. The majority of people opt to leave the green growth to degrade by itself over time. If used on a roof, it reduces the risk of damaging the roof tiles via pressure washing. Furthermore, this roof green growth cleaner can be diluted further which helps with roof green growth prevention. After the surface has been cleaned. Green Clear can be re-applied at any time to the prevent the regrowth of algae and green growth spores on tarmac, driveways, patios, walls and roofs.

If using as a green growth killer for tarmac surfaces, Green Clear can be sprayed onto the tarmac and left to take effect. For best results, some light pressure washing may be required after 5-7 days to remove any green growth that may have died and turned brown.
Please read label carefully before usage.
To make sure that you receive the best results and optimum effectiveness of the green growth remover, green growth cleaner and green growth killer, dilute the product at a ratio of 1:5 (one part green clear to five parts water).
One of our 5 litre containers of Green Clear is able to cover around 100m² to 125m². For areas of thicker organic growth an extra application may be required after the initial treatment.
To make sure that the product is applied evenly we advocate application by watering can or pump sprayer.
Does not contain bleach or acids.
We provide a national delivery service for our block paving sealer, pattern imprinted concrete sealer, roof coatings and tarmac restorer on a standard 2 - 4 working day basis. Dependent on weight, this is normally done by pallet or parcel carrier.
If you need products delivered quicker, for a small additional charge, orders placed before 1.30pm can be delivered within 1 - 2 working days to most parts of the UK, although this is dependent on the courier service in your area and the product/s ordered. If you require this service, please check on area availability by calling 01268 722500.
Our commitment is to supply all orders as placed and we offer a comprehensive guarantee of quality. Providing a reliable delivery service to all our customers is most important to us and this is backed up by the many satisfied customer testimonials we have received over the years.
If you need an order delivered to a different address, left somewhere at your property without a signature or left with a neighbour, just let us know.
We also try to maintain 100% stocking levels of our products at all times, so an immediate despatch is virtually guaranteed.
Our product returns policy can be viewed by visiting our Terms and Conditions section.
*Free delivery on orders over £75 are subject to the delivery address location.