Product Reviews
excellent service - order placed - with a delivery date within 7 days - arrived in 2 - no problem with that at all......just the job
Have not used product yet.
Excellent product. In the past I have used salt and detergent solution. Smart Seal Roof Revive has worked really well to kill the moss, lichen and algae on roof and cladding tiles. Roof looks so much better!!
Product FAQs
Q: How often should this product be used to keep my property moss free?
A: This product can be used as a preventative and a killer for active growth: for use as a preventative dilute at a 1:10 ratio and apply once a year.
Response from Tracey
Q: Will this product clean my roof?
A: This product will clear your roof of any biological growth. If your roof has ingrained dirt or grime that needs to be lifted then look at using our Roof Clean Xtreme cleaning product in conjunction with a moss remover.
Response from Lauren
Q: Can I use this on tarmac?
A: Yes, this product will be compatible for use on tarmac.
Response from Alex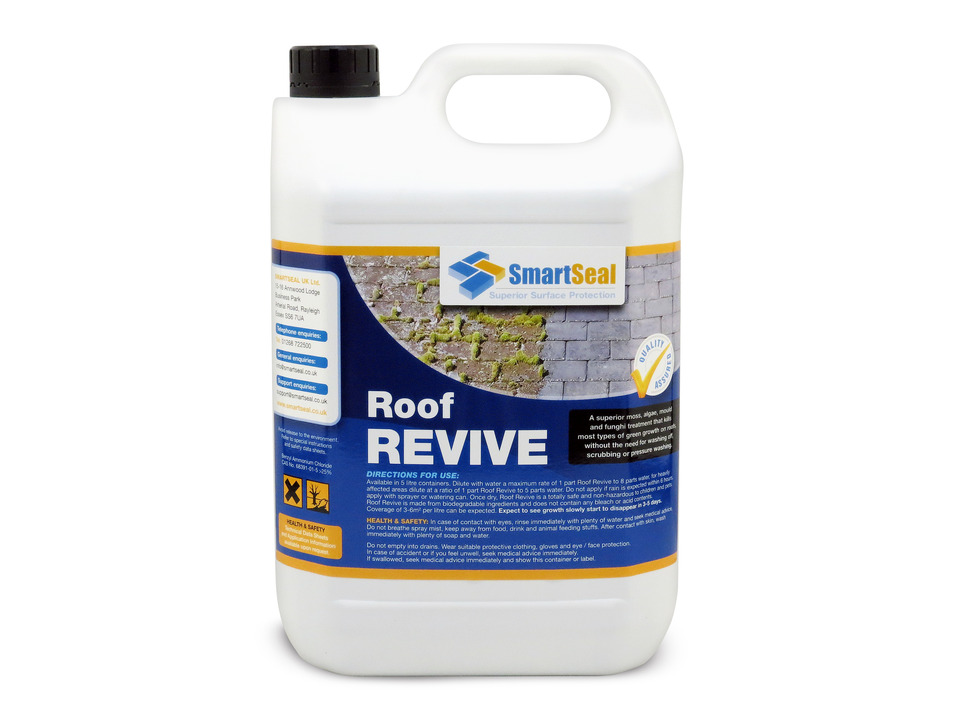 Roof Revive (5L)
Easy to Apply -treat and prevent the growth of Green Growth and Algae (dilute 1:5 to make 25 litres). Green growth killer for concrete, slate & clay roof tiles. Simply Apply & Leave - Green Growth & Algae Killer - Slate, Clay & Concrete Tiles.





Roof Green Growth Killer & Powerful Roof Organic Matter Remover
Highly Effective Organic Matter, Algae and Mould Remover.
Roof Revive is a roof cleaning concentrate designed as an organic growth and algae treatment that safely removes all types of green growth without the need for washing off at high pressure or scrubbing.
By reducing the pressure whilst cleaning the risk of damage to roof tiles is minimised and cleaning time reduced. Roof Revive is also designed to be applied after the roof has been cleaned to eliminate the risk of spores re-forming.
Roof Revive is also suitable for use on paving, tarmac and other concrete surfaces.
For best results dilute at a ratio of one part Roof Revive to five parts water. Coverage of approx 100m² to 120m² can be expected from 5 litres: application by sprayer or watering can is recommended.
Does not contain bleach or acid.
We provide a national delivery service for our block paving sealer, pattern imprinted concrete sealer, roof coatings and tarmac restorer on a standard 2 - 4 working day basis. Dependent on weight, this is normally done by pallet or parcel carrier.
If you need products delivered quicker, for a small additional charge, orders placed before 1.30pm can be delivered within 1 - 2 working days to most parts of the UK, although this is dependent on the courier service in your area and the product/s ordered. If you require this service, please check on area availability by calling 01268 722500.
Our commitment is to supply all orders as placed and we offer a comprehensive guarantee of quality. Providing a reliable delivery service to all our customers is most important to us and this is backed up by the many satisfied customer testimonials we have received over the years.
If you need an order delivered to a different address, left somewhere at your property without a signature or left with a neighbour, just let us know.
We also try to maintain 100% stocking levels of our products at all times, so an immediate despatch is virtually guaranteed.
Our product returns policy can be viewed by visiting our Terms and Conditions section.
*Free delivery on orders over £75 are subject to the delivery address location.