Product Reviews
This is a great product, second time buying. Removed all mould
I've been looking for something to clean mould from marble in a shower. Most things were unsuitable or just did not work. However, this solved my problem and did an outstanding job... wish I'd found it years ago!
Really good cleaning product for mould and mildew, second time buying lasts a while and you don't to use need much to make it all clean and sparkling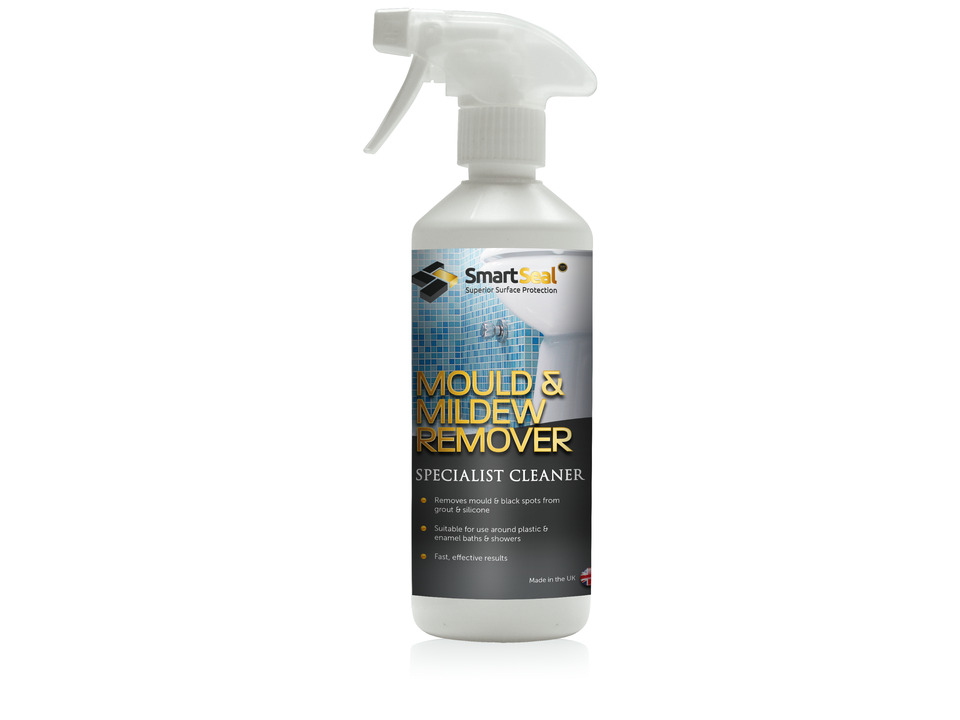 POWERFUL MOULD AND MILDEW REMOVER
Mould and mildew is often found on grout joints in showers and other hard surfaces in bathrooms and kitchens. If left untreated, mould and mildew can cause a number of health issues that can in some cases become serious. Smartseal Mould and Mildew Remover is an effective, safe cleaner for the removal of mould and unsightly black spots on tile grout.

We recommend using the Mould and Mildew Remover to help prevent health problems and to keep your grouting looking clean at all times.

The Mould and Mildew Remover kills any mould spores that form on tile grout especially in damp areas like shower cubicles. It can be used on grouting and any type of floor or wall tiles, such as porcelain, ceramic, travertine, marble and granite.
Mould and Mildew Remover is used in kitchens, bathrooms, floors, walls, showers and other areas with grouted tiles.

Benefits
Removes mould & black spots from grout & silicone

Suitable for use around plastic and enamel baths & showers

Fast and effective results

Prevents potential health issues

Makes a home safer
Use Mould and Mildew Remover with other internal cleaning and sealing products - Grout Cleaner, Grout Haze Remover, Grout Magic and Heavy Duty Tile & Stone Cleaner.
Directions for Use
SHAKE WELL BEFORE USING.
1. Read entire label before using.
2. Spray the surface to be treated from 20-30cm away.
3. Leave to work for 20-30 mins, then agitate with a stiff brush or scouring pad.
4. In the case of stubborn stains i.e. such as on silicone sealants, spray again
and leave to work for up to 2-3 hours.
5. Clean the sprayed surface with a sponge & clean water.
Always test Mould & Mildew Remover on an inconspicuous area prior to use.
PLEASE NOTE: Avoid contact with metals and do not treat coloured surfaces.
We do not recommend using this product on artexed surfaces. Avoid splashes
on sensitive surfaces such as metal, wood or clothing.
Suggested First Aid Procedures
Eye contact: immediately flush eyes with plenty of water for approximately 15minutes. If irritation persists, seek medical attention. Skin contact: wash area in question with soap and water. If irritation persists, seek medical attention.
Inhalation: Remove person to fresh air. If symptoms persist, seek medicalattention.

Ingestion: Harmful if swallowed; Do not induce vomiting, if nauseous drink 2-3 glasses of water. Seek medical attention immediately and show this container or label.
We provide a national delivery service for our block paving sealer, pattern imprinted concrete sealer, roof coatings and tarmac restorer on a standard 2 - 4 working day basis. Dependent on weight, this is normally done by pallet or parcel carrier.
If you need products delivered quicker, for a small additional charge, orders placed before 1.30pm can be delivered within 1 - 2 working days to most parts of the UK, although this is dependent on the courier service in your area and the product/s ordered. If you require this service, please check on area availability by calling 01268 722500.
Our commitment is to supply all orders as placed and we offer a comprehensive guarantee of quality. Providing a reliable delivery service to all our customers is most important to us and this is backed up by the many satisfied customer testimonials we have received over the years.
If you need an order delivered to a different address, left somewhere at your property without a signature or left with a neighbour, just let us know.
We also try to maintain 100% stocking levels of our products at all times, so an immediate despatch is virtually guaranteed.
Our product returns policy can be viewed by visiting our Terms and Conditions section.
*Free delivery on orders over £75 are subject to the delivery address location.