Product Reviews
Excellent good quality roof sealer and excellent good fast delivery service will use again
The roof tile sealer is an excellent product, good service
Excellent sealer, dispatched promptly and arrived overnight. Easy to apply, and best of all, does what it is supposed to do. We now have the best looking roof in the area.
Product FAQs
Q: Can this be painted on or used as preparation for painting?
A: The roof sealer is formulated as a 'repellent' solution, therefore we would not recommend applying any product on top of it.
Response from Alex
Q: Can this product be use as a sealant in pottery making?
A: Although the product has not been formulated with pottery in mind, the sealer can be recommended if you need the pottery to be fully water proof. Samples are available in 100ml size.
Response from Alex
Q: Is it ok for a chipped clay pantile?
A: Smartseal roof tile sealer is formulated to re-instate the water repellent properties of new tiles. As tiles age, they will become more porous, leading to moss and algae build up, and further loss of heat through wet tiles. It will not make broken or chipped tiles waterproof.
Response from Alex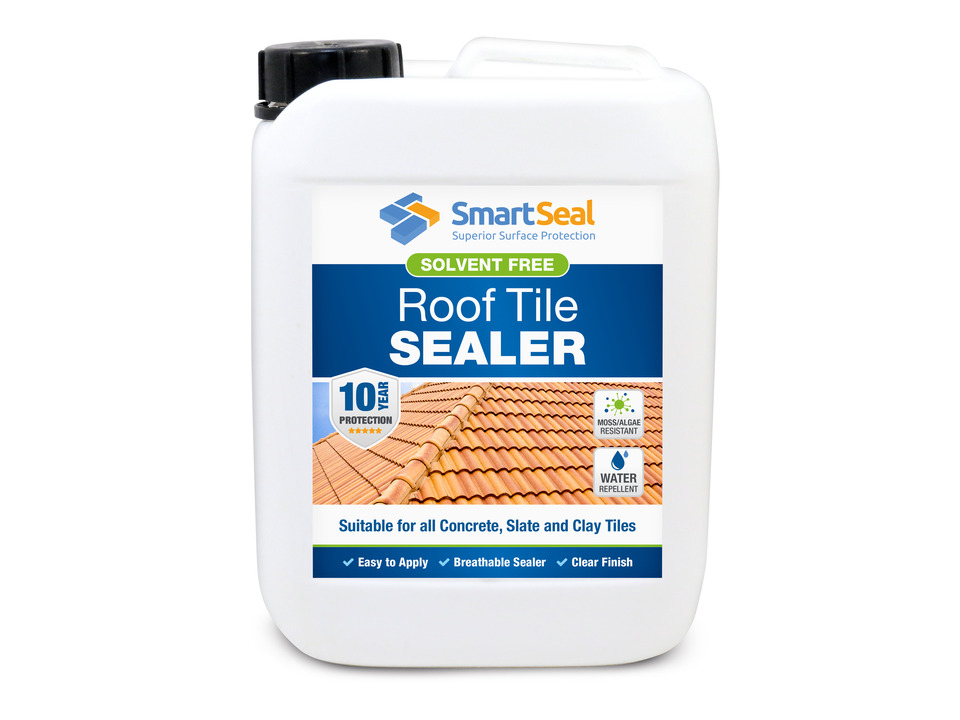 ROOF SEALER 'Breathable' Dry Finish - Protects Concrete Tiles & Slates 10 yr+
(Sample 100ml, 5, 25L & Bundles) Highly Protective, Impregnating & Breathable Protects from MOSS, ALGAE & WATER 10yr+. Clear Protective Impregnating Roof Sealer for Concrete, Slate and Clay Roof Tiles. Safe & Easy to Apply





#roof-sealer
Clear Roof Sealer
Smartseal roof sealer creates a water repellent barrier and protects against re-growth of moss and algae.
The roof tile sealer is a high quality, clear, solvent free acrylic impregnating roof sealer for concrete, clay or slate tile roofs. Once applied, the roof sealer will alter the chemical structure of any roof tile and provide an excellent water repellent surface. The clear roof sealer will also greatly restrict the growth of algae, lichen and moss to the surface of the tile.
Roof Tile Sealer features:
Suitable for slate, clay tiles and concrete tiles
1 x 25 litre will treat up to 125 m2 on concrete roof tiles & 200-250 m2 on clay & slate roof tiles
Highly resistant to water, staining and organic growth
Will not change appearance of roof tile
One-coat to saturation (with 2nd lighter coat)
Average coverage 5 m² per litre
Application by sprayer or brush
Touch dry 2-3 hours
Fully waterproof 24 hours
Lifespan up to 10 years
Solvent free impregnating sealer
PREPARATION:
Before application of roof sealer make sure tiles or slates are totally clean, dry and free from moss or algae spores.
Unless applied to a new roof, pressure washing and application of suitable biocide is essential.

APPLICATION: Apply roof sealer by hand held sprayer or brush, apply to saturation, it is recommended that after around 20 - 30 minutes a light second 'wet on wet' coat is applied. Not to be applied if there's a threat of rain or temperatures below 12°C. Apply to test area first, mix container before use.
Clean equipment with water immediately after use.
SHELF LIFE: Use as soon as possible after opening. Store away from sun and sources of heat. Avoid frost and low temperatures.
Can be stored for 12 months (in original sealed container).
We provide a national delivery service for our block paving sealer, pattern imprinted concrete sealer, roof coatings and tarmac restorer on a standard 2 - 4 working day basis. Dependent on weight, this is normally done by pallet or parcel carrier.
If you need products delivered quicker, for a small additional charge, orders placed before 1.30pm can be delivered within 1 - 2 working days to most parts of the UK, although this is dependent on the courier service in your area and the product/s ordered. If you require this service, please check on area availability by calling 01268 722500.
Our commitment is to supply all orders as placed and we offer a comprehensive guarantee of quality. Providing a reliable delivery service to all our customers is most important to us and this is backed up by the many satisfied customer testimonials we have received over the years.
If you need an order delivered to a different address, left somewhere at your property without a signature or left with a neighbour, just let us know.
We also try to maintain 100% stocking levels of our products at all times, so an immediate despatch is virtually guaranteed.
Our product returns policy can be viewed by visiting our Terms and Conditions section.
*Free delivery on orders over £75 are subject to the delivery address location.